MHC and MCC House Style Rules
Below is a list of 'house rules' to keep to as we build out the Magellan Healthcare and Magellan Complete Care websites. Please note that the content below is in ADDITION to Magellan's brand rules (which should always be followed). These rules are intended to keep a consistent look and feel across the website's different areas and to ensure the optimal performance of the site for both the readers and the editor.
Revised 11.12.19
Building Pages
Don't stack free text modules on top of each other; use one. If you want to delineate sections, use extra hard return with appropriate header or the line tool.
Contact Us Call to Action
When building a Call to Action asking the user to contact us, please use the following Module and format:
Module: Inline Alert
Alert Type: Attention

Buttons and Links
Always use Button for CTA.
A Button should always be on a new line, but you can put two buttons on the same line as long as you put a space between them. Do NOT put a Button inline with paragraph or header text.
Do not use a period in a Button even with a full sentence like "click here to download" but do use one in a full sentence that makes up an inline link (see below re: inline links).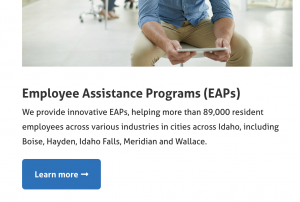 Reserve hyperlinks within text for unimportant things (to reference, to download something not important, to give folks more info about something when you don't really want them to leave the page, etc.). When creating an inline hyperlink:
Buttons and Links come with a number of formatting options depending on what you are linking to. Use the appropriate option for the content at the hyperlink destination – if linking to a video, use the Video option; if linking to a document, use the Download option. If linking to a page with the same URL, use the Arrow option. If linking to a page with a different URL, use the External option, etc.
Examples of options for Links (the same options are available for Buttons):